From what I remember two years ago, when I started off with a clean slate, business came easy. I would put up an advert and within an hour or two some cat would be on my trail. I would bust at least one pair of balls per night (that was a minimum). Things changed or what?
Yesterday, I started advertising my services as a new girl. I am leaving my old pseudonym in the past and moving on. I have re-defined myself. I'm now the regular girl off the block, no fancy names like escort, companion, etc… It is simple - I am a prostitute. I would say that my personality and how I approach my business is still the same. I am friendly, playful, nice and naughty in an innocent hot way. If you don't know what I mean maybe this picture would help?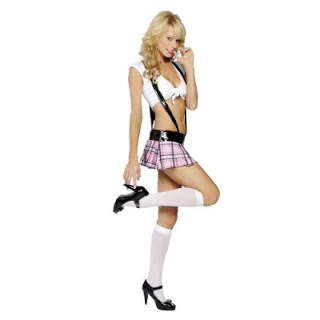 Aside from all the services I used to perform/allow I have only taken kissing off the menu. I love kissing and have come a long way to only turn back to how I first started in this industry. However, I must decline this part of it because in the last two years I continually suffered from swollen tonsils. They would engorge from the infections, turn white from all the pus, and only when I took breaks from working would they slowly return to normal. It took me a couple years to realize that the constant swap of saliva/bacteria was creating over drive in my tonsils.
The immune system can only function so long before all the different bacterium (from different men) starts attacking the glands that help fight off disease.
All else remains the same.
So far there has been no work. Last night the report was - 2 calls, 1 text message, and 1 email.
The first caller asked for the restrictions on the menu and said he will do some more shopping around. Then the text message inquiry agreed to price and services but wanted a car-date.
And I am really uncomfortable getting into a stranger's car. How will I know he's not some creep that will knock me unconscious and drive me out in the middle of nowhere? It's a scary thought not to mention doing it in a car is probably very cramped. LMAO I have never had sex in a car. Yes, I know how uncivilized. I have had sex in many public places but for some reason a car never made it up on my list.
Then I wondered, why do car-dates have to be in a client's car? I have a car too. At least that would give me more control since I'm the driving party. I would even do it but my new car is slamming. It's brand new and clean. I do not see myself wiping down jizz smears from the shift stick.
The next caller went something like this. He asked for me but the phone agent explained to him that she schedules my appointments. He wasn't impressed and said that he and his friend would like to see me for $100. $1 per minute kind of thing, he said. My agent told him what my rate was and he started arguing that he saw in the ad it was $1 for each minute of my time. Then he apologized and said his 'friend' doesn't read well. My agent told him that she feels uncomfortable sending a girl to a house with more than one guy. To which he said, "We have a shower and two separate bedrooms. We'll have her wash off when she is done with one of us before she sees the other."
That's when my agent told him to have a good night and hung up. What guys eh? LMAO
The email was just an-ask for half hour visit. Which I don't bother doing.
Tonight was even less productive! Two callers and one text message.
The text asked me to go out for a drink.
The first caller wanted a 15 minute visit for $150. Which is a great deal but I don't bother driving out for less than 1 hour.
The last caller sounded like an East Indian guy (I don't really like seeing these). He started asking if I travel on trips. He wanted someone to get out of town with him on the weekend. The only problem was, he wouldn't book me for an introduction. My agent advised him to book me before making such a commitment for the long-weekend. He didn't want to do it. It ended there.
I have revised my advertising a little for tomorrow night. Instead of listing all my restrictions, I listed all the services available. What makes it tough is, that I don't offer a GFE (Girl Friend Experience) and specifically say that I do not. I hate bait and switch so at least I'm being honest. :)
I am sure business will pick up. For whatever reason I just started at a slow time.
Peace